What's the Difference Between Saving and Investing?
Saving and investing are both something you should know about.
Savings and investments – What's the difference? Why does it matter to you? How should you use both, even now? Keep on reading to find out!
Which is which?
Savings and investment have distinctly different uses.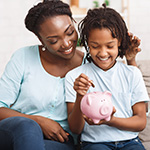 Savings is money you hold on to for emergencies or future big purchases. Savings is easy to access and doing so has no taxes associated.
Investments are in assets like stocks, bonds, real estate, or even gold. Getting money out of an investment means having to find a buyer and paying taxes on the profits made.
Look at it this way: If you put $1,000 into a savings account that has a 3% interest rate, in 20 years you'll have $1,806. If you put that same amount into the stock market with an average return of 10%, you'd have $6,727.
Although both a savings account and investments earn you money, investments typically earn you more money. There is the risk that whatever you invested in will lose value.
Why does it matter?
You're young. The chances of you needing a large amount of money in an emergency are pretty slim. Most likely you don't have a lot of money in general. That doesn't matter, though. Eventually, you will need money.
If you're reading this, you probably already have a savings account. There's a chance that someone gave you stocks or bonds so you already have investments too. Since savings and investments are long-term things, now is a perfect time to start. By the time you need the money, there will be more of it because of interest.
How to make it work for you
The first thing you're going to need is an adult. If you don't already have a savings or investment account, you're going to need an adult to help you get started.
The next thing you'll need, if you don't already have one, is an account with your credit union. The adult you found earlier will have to help with this, most likely having to sign up for the account with you. Especially when opening any kind of investment account.
Then just let the money sit in there. The best option for savings and investments is to let them age. If you want to save up for a new toy or video game, use a piggy bank or start a savings account that you only use for short-term goals.
Diversity is another important part of both savings and investments. Having one simple savings account is important. But you can also put money into certificates of deposit (or a share certificate), locked-in savings accounts that have higher interest returns. With investments, there are accounts that you can invest in that already have a diverse collection of stocks and bonds.
No matter what mix of savings and investments you want to use, do so with the understanding that these are long-term options. The goal is to have money for later, so sit back and let them do their thing.